Interactive Dashboards:
FTR has developed a series of interactive dashboards to help transportation professionals understand the real-time true impacts of the COVID-19 pandemic on the rates and volumes in the freight marketplace. The map below assesses the state-level impacts on the U.S. trucking industry by four equipment types – dry van, refrigerated, flatbed, and specialized – using Truckstop.com spot market data.
FTR's analysis examines historical seasonal behavior regarding rates in each state and normalizes the data to represent how the trucking environment would look in a typical growth economy. By comparing that norm to the current rate environment, we can understand how COVID-19 is affecting rates on a state-by-state basis.
To help you better understand how the map works, visit our Knowledge Base FAQ.
COVID-19 Freight Recovery Index:
The COVID-19 Freight Recovery Index for Rail and Trucking measure the industry's response and recovery based on pre-pandemic levels, while accounting for historical patterns and seasonal fluctuations. Indexes are now available for trucking as a total, as well as narrowed by dry van, refrigerated, and flatbed, using Truckstop.com spot rate metrics and for rail showing North American carload and intermodal, economically sensitive freight, automotive, and energy sectors. Download both indexes below to view all graphs available.
| | |
| --- | --- |
| May 12 | Rail Freight Recovery Index |

Carload and intermodal volumes each declined in the latest week as there was a pause in the gains that have marked the last few weeks.
N.A. Carload: Carload volumes took a notable step down in the latest week, but remained close to the full recovery level of 100.

N.A. Intermodal: Intermodal volumes took a more significant step backward in the latest week as containers and trailers each eased back, but it remains at a fairly high level.

Economically Sensitive Freight: Economically sensitive freight took another step down in the latest week as automotive and other sectors created headwinds to holding its present level.

Automotive: Ongoing parts shortages continue to pressure automotive loadings weaker from an already low level. This is expected to continue until the supply issues abate.
Energy: Energy volumes declined as petroleum products and coal each eased back in the latest week. The sector remains in the ballpark of its highest levels since the pandemic.
| | |
| --- | --- |
| May 10 | Truck Freight Recovery Index |

CVSA inspection event leads to sharp rise in freight index.
Total: Seasonally adjusted freight activity rose more than 11%, but much of that strength surely stemmed from the Commercial Vehicle Safety Alliance's annual three-day International Roadcheck event, which previously has not been held in May.

Dry Van: The Dry Van segment soared more than 25% as freight moved to the spot market in response to capacity shortfalls due to the CVSA event. The index was still about 26% below the February peak but about 189% above the pre-pandemic base.

Refrigerated: Temperature-controlled activity jumped more than 24% due mostly to International Roadcheck as refrigerated – like dry van – has been quite stable recently. Volume was 8% below the current high but 193% higher than the pre-pandemic base.

Flatbed: The Flatbed segment set its fourth straight post-pandemic high, rising 4.6% from the prior week. Flatbed's volume growth was not clearly linked to International Roadcheck as the segment has seen even larger gains in some recent weeks.

Click here to download the PDF for our complete analysis. >
Commentary, Reports, and Updates:
This section will continue to host the most relevant intelligence that FTR is able to provide on how the COVID-19 pandemic is affecting the transportation markets. Check back frequently as we add new information.
| | |
| --- | --- |
| Updated Weekly | Podcast | Trucking Market Update & Rail Market Update |
This content is relevant for: Rail, Shipping, Equipment, and Freight Focused Professionals
Rail Market Update on the State of Freight Podcast
| | |
| --- | --- |
| May 10 | Spot Market Insights |
This content is relevant for: Rail, Trucking, Shipping, Equipment, and Freight Focused Professionals
Spot volume and rates surge during International Roadcheck week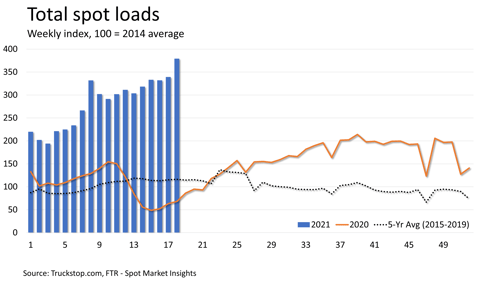 Load postings and rates in the Truckstop.com system already were at record levels when the spot market faced one of its biggest annual stress events: The Commercial Vehicle Safety Alliance's International Roadcheck. The three-day driver/vehicle inspection spree occurred during the week ended May 7 (week 18), resulting in sharp increases in volume and rates and a sharp drop in truck postings. Thus, week 18 saw records for loads, rates, and the Market Demand Index – the ratio of loads to trucks.

International Roadcheck historically has been one of the hottest weeks of the year for the spot market as the event generally has encouraged truck drivers to take time off. The result usually is that shippers and brokers must seek more capacity in the spot market, which itself usually sees sharply reduced capacity. Until last year, Roadcheck had always occurred in early June. Last year, CVSA had rescheduled the event for early May, although it ultimately was postponed until September due to the pandemic.







Click here to view this complete analysis. >
| | |
| --- | --- |
| January 2021 | State of Freight Replay — Preparing for 2021 |
This content is relevant for: Rail, Trucking, Shipping, Equipment, and Freight Focused Professionals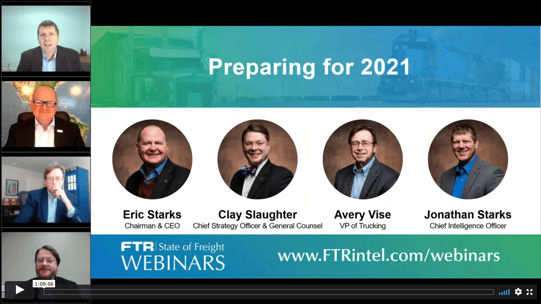 Presenters: Eric Starks, Avery Vise, Clay Slaughter
Moderator: Jonathan Starks
The January 2021 State of Freight™ Webinar looked at the key uncertainties that could change the 2021 outlook for shippers and carriers. With consumer demand holding at strong levels and the industrial sector starting to gain traction, the freight markets have entered 2021 with a solid footing. View the replay below for the risks you should consider when planning your path forward.
Click here to view the replay and graphs for this webinar. >
As the situations evolve, FTR is archiving content that is no longer current.
---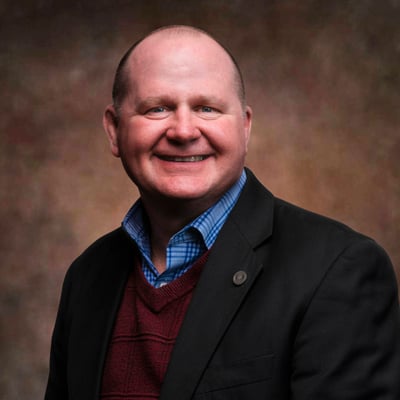 Eric Starks
Chairman & CEO
FTR's priority during these uncertain times is to leverage our expert analysis and the Freight•cast™ model to help our clients understand how the coronavirus crisis will affect their businesses. Visit this page often as we provide updates and resources for navigating these trying times. While we are providing much of this information to the public, we continue to provide greater and more detailed information in the standard products and services that are available only to FTR clients. Contact us to learn how you can get the transportation intelligence you need.