This page is your go-to resource for transportation insights and expert commentary on how the COVID-19 recovery is affecting the economy and transportation markets. Our
Freight•cast™ forecasting model and
team of experts produce weekly insights that help
you navigate these challenging times.
This page is updated throughout the week.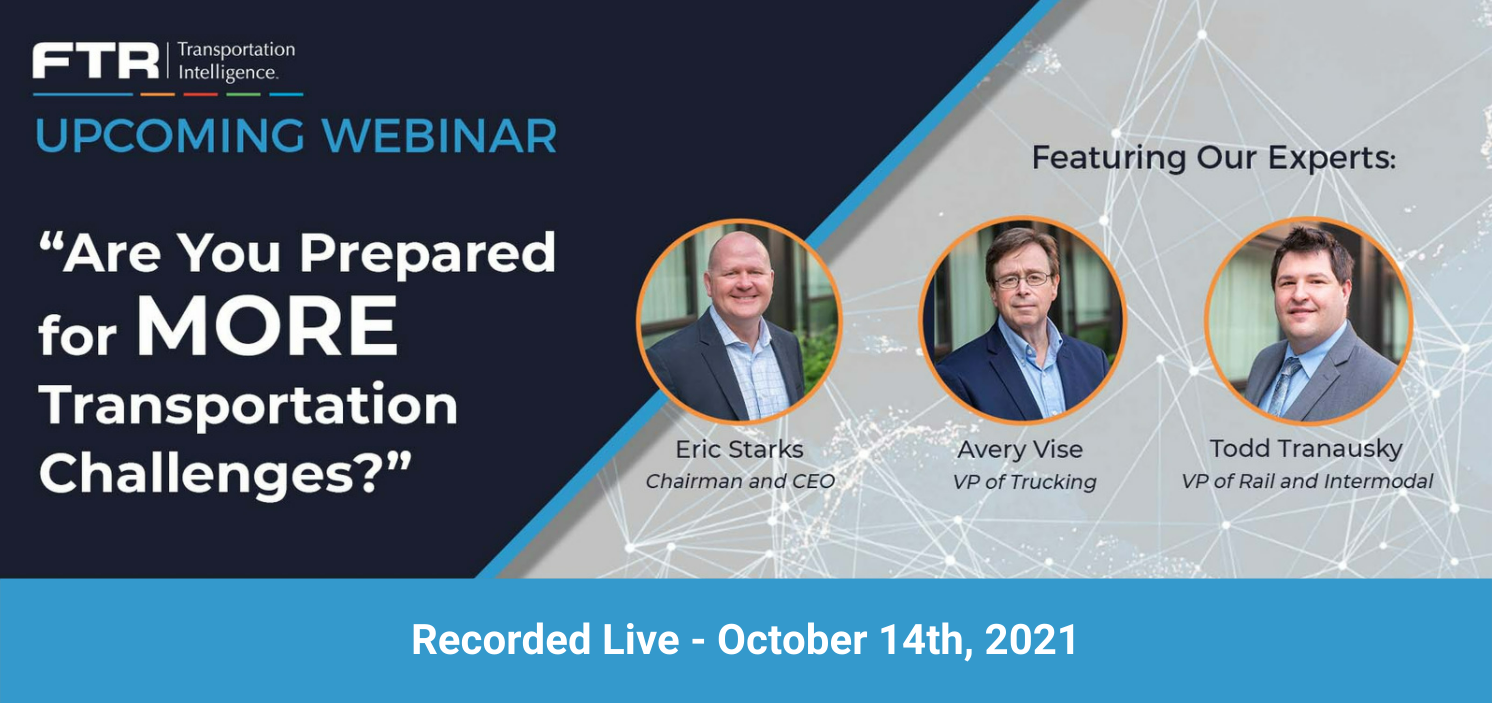 COVID-19 Freight Recovery Indexes
The COVID-19 Freight Recovery Indexes for Trucking and Rail measure the industry's response and recovery based on pre-pandemic levels, while accounting for historical patterns and seasonal fluctuations. Indexes are now available for trucking as a total, as well as narrowed by dry van, refrigerated, and flatbed, using Truckstop.com spot rate metrics, and for rail showing North American carload and intermodal, economically sensitive freight, automotive, and energy sectors. Download the indexes below to view all graphs available.
| | |
| --- | --- |
| December 6 | Truck Freight Recovery Index |

Freight activity rebounds from Thanksgiving distortion
Total: Seasonally adjusted freight activity snapped back nearly 60% from the Thanksgiving lull to nearly 7% above the index level prior to the holiday. Volume is now less than 18% below the pandemic-high spike posted in February.

Dry Van: The Dry Van segment jumped more than 54% from the prior week to a level that was nearly 8% above the pre-holiday level. Volume in the segment is still about a third below the February spike, but it is nearly 165% above the pre-pandemic base.

Refrigerated: Temperature-controlled activity rose about 40% from Thanksgiving week to a level that was more than 5% ahead of the pre-holiday volume. Volume was about 31% below the February peak but more than 120% above the pre-pandemic base.
Flatbed: The Flatbed segment soared more than 67% above the holiday week's volume. However, the segment fell about 1% short of the volume the week before Thanksgiving. Flatbed is about 19% below the mid-May peak volume.



Download the Truck Freight Recovery Index
| | |
| --- | --- |
| December 1 | Rail Freight Recovery Index |

The timing of the Thanksgiving holiday distorts the comparison and makes last week's declines appear more dramatic.
N.A. Carload: Carload moved down in the holiday week, but should recover next week once the dramatic holiday comparison is past.

N.A. Intermodal: Intermodal declined sharply as well, battling the dual headwinds of the Thanksgiving holiday and the flooding disruptions along rail lines east of Vancouver, British Columbia.

Economically Sensitive Freight: Economically sensitive freight followed the overall carload pattern of a sharp, holiday week decline and should mostly recover when the new week's data is released.

Automotive: The decline in automotive was smaller than many other sectors, but it was already operating at a weaker level before the holiday than many of those sectors because of ongoing parts shortages.

Energy: Energy followed the general pattern of a significant holiday week decline that should mostly reverse in the week ahead.
Download the Rail Freight Recovery Index