This page is your go-to resource for transportation insights and expert commentary on how COVID-19 prevention steps are affecting the economy and transportation markets. FTR will be focusing the work of its team of experts and the Freight•cast™ forecasting model to inform and guide transportation professionals and its clients. Check this space frequently for reports, webinars, forecasts, commentary, and all intelligence that is available for you to navigate these difficult times.
✳️ All content listed on this page is complimentary.
This page will be updated regularly with the latest intelligence that we are able to provide. As information becomes outdated, we will archive items so that this page remains relevant. In addition to the information on this page, FTR provides a comprehensive suite of products and services for transportation professionals. Click here to view samples and more information for the additional reports available to you.
Interactive Dashboards:
FTR has developed a series of interactive dashboards to help transportation professionals understand the real-time true impacts of the COVID-19 pandemic on the rates and volumes in the freight marketplace. The map below assesses the state-level impacts on the U.S. trucking industry by four equipment types – dry van, refrigerated, flatbed, and specialized – using Truckstop.com spot market data.
FTR's analysis examines historical seasonal behavior regarding rates in each state and normalizes the data to represent how the trucking environment would look in a typical growth economy. By comparing that norm to the current rate environment, we can understand how COVID-19 is affecting rates on a state-by-state basis.
To help you better understand how the map works, visit our Knowledge Base FAQ.
COVID-19 Freight Recovery Index:
The COVID-19 Freight Recovery Index for Rail and Trucking measure the industry's response and recovery based on pre-pandemic levels, while accounting for historical patterns and seasonal fluctuations. Indexes are now available for trucking as a total, as well as narrowed by dry van, refrigerated, and flatbed, using Truckstop.com spot rate metrics and for rail showing North American carload and intermodal, economically sensitive freight, automotive, and energy sectors. Download either below to view all graphs available.
| | |
| --- | --- |
| Jan 20 | Rail Freight Recovery Index |

Carload is nearly flat and just below peak levels. Intermodal holds at strong level despite decline in latest week.
N.A. Carload: Carload volumes were nearly flat in the latest week, holding at levels just below their pre-holiday peak.

N.A. Intermodal: Intermodal volumes declined slightly in the latest week, but were operating at strong levels, even if not at their holiday peak levels.

Economically Sensitive Freight: Economically-sensitive freight continues to outperform the overall carload markets and is now at its highest peak since the pandemic began.

Automotive: Automotive traffic held fairly flat in the latest week, having not returned to pre-holiday levels.
Energy: Energy declined significantly in the latest week as weakness in the coal sector pushed the energy result sharply lower.
| | |
| --- | --- |
| Jan 19 | Truck Freight Recovery Index |

Freight recovery index eases from its pandemic high.
Total: Seasonally adjusted freight activity fell about 17% from the prior week's post-pandemic high. All segments were lower week over week, but holiday-related distortions in seasonal adjustments might still be affecting results slightly.

Dry Van: The Dry Van segment declined about 24% from the prior week's post-pandemic high. The index remains about 75% above the pre-pandemic baseline, indicating that dry van's performance has been the strongest of the key segments.

Refrigerated: Temperature-controlled activity was about 21% lower than the previous week and about 33% below the post-pandemic peak registered during the week ending October 30.

Flatbed: The Flatbed segment dropped about 14% from the prior week's post-pandemic high. The index continues to indicate strong performance over the course of the pandemic at about 65% above the baseline.

Click here to download the PDF for our complete analysis. >
Commentary, Reports, and Updates:
This section will continue to host the most relevant intelligence that FTR is able to provide on how the COVID-19 pandemic is affecting the transportation markets. Check back frequently as we add new information. FTR clients receive even more intelligence and updates. To get the most information available for your decision making, contact us to learn more about our subscription services, reports, and ask how you can attend a complimentary webinar.
| | |
| --- | --- |
| January 18 | Spot Market Insights |
This content is relevant for: Rail, Trucking, Shipping, Equipment, and Freight Focused Professionals

Spot market volume falls from record level
Following a sharp rebound that had resulted in a weekly record, load volume in the Truckstop.com system fell 8.1% during the week ended January 15, 2021 (week 2). Dry van and refrigerated load postings fell sharply, but flatbed volume was up modestly after the previous week's sharp gain. While volume fell, truck postings increased, leading to a decline in the ratio of loads to its lowest level in five weeks. Spot rates excluding fuel fell nearly 8 cents to their lowest level in six weeks.


Click here to view this complete analysis. >
| | |
| --- | --- |
| Updated Weekly | Podcast | Trucking Market Update & Rail Market Update |
This content is relevant for: Rail, Shipping, Equipment, and Freight Focused Professionals
Rail Market Update on the State of Freight Podcast
| | |
| --- | --- |
| December 2020 | FTR Engage — The 2021 Outlook |
This content is relevant for: Rail, Trucking, Shipping, Equipment, and Freight Focused Professionals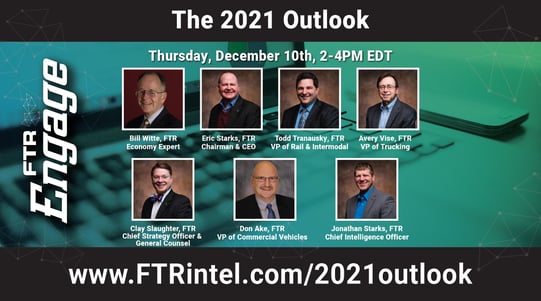 What will it mean to put 2020 in the rearview?
FTR Experts: Avery Vise, Todd Tranausky, Don Ake, Jonathan Starks, Bill Witte, Clay Slaughter
Moderator: Eric Starks
Following the presidential election, we wrap up 2020 and explore what impact this may have on the economy and transportation markets. We also review some of the key issues that have emerged during the year with an eye for how they might impact 2021. Hear from each of FTR's experts regarding their expectations for the different parts of the freight transportation market in the new year.
Click here to view the replay and graphs for this webinar. >
| | |
| --- | --- |
| October 2 | Weekly Transportation Update |
This content is relevant for: Rail, Trucking, Shipping, Equipment, and Freight Focused Professionals

The U.S. economy adds just 661,000 payroll jobs in September; unemployment eases to 7.9%
Reduced unemployment compensation drives personal income lower in August.
Truck spot freight was basically flat, but the imbalance sets another record.
Rail carload returns to trend after Labor Day disruptions.
International now is driving intermodal's robust growth more than domestic, which is still strong.
Note: This report is available every week to FTR's Premium subscribers. We are sharing it with you this week to keep you informed of the important employment data that has just been released. Would you like to keep getting these updates and staying apprised of market risks? Contact Customer Relations at info@ftrintel.com).
Click here to download the PDF for our complete analysis. >
---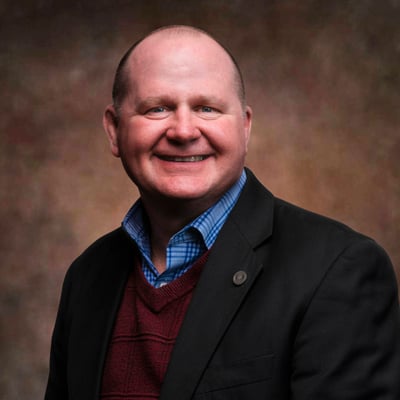 Eric Starks
Chairman & CEO
FTR's priority during these uncertain times is to leverage our expert analysis and the Freight•cast™ model to help our clients understand how the coronavirus crisis will affect their businesses. Visit this page often as we provide updates and resources for navigating these trying times. While we are providing much of this information to the public, we continue to provide greater and more detailed information in the standard products and services that are available only to FTR clients. Contact us to learn how you can get the transportation intelligence you need.