Download the Sample Database
Anyone who has been in the commercial vehicle market knows that it endures large swings in production. Knowing how to understand and manage this risk is essential for suppliers preparations. FTR doesn't just give you the most up-to-date numbers, but also provides independent analysis to help you understand the risks and opportunities available in the market.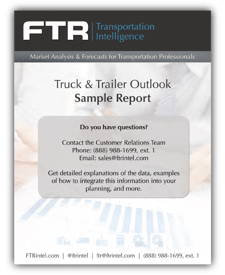 Truck & Trailer Outlook Sample Database
---
Why you need the Truck & Trailer Outlook:
FTR's Truck & Trailer Outlook service gives you the best N.A. commercial vehicle equipment forecast in the industry. Each report covers specific detail and forecasts for North American Class 8 Truck, Trailers by type, Medium Duty (Classes 4-7), and the overall trucking environment. This service gives you expanded coverage of transportation & logistics issues, freight segmentation, commodity & modal analysis, truck productivity and capacity utilization.