Download the Sample Report
The FTR Shippers Update is designed to help you keep tabs on everything going on in the world of freight transportation. From regulatory impacts, economic drivers, fuel prices, to capacity; knowing what impact these variables will have on your business is vital to making informed decisions.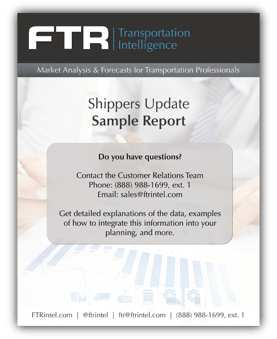 Shippers Update Sample Report
---
About the Shippers Update Sample Report

To better understand the report you downloaded, here are some highlights of the most valuable insights:
Page 1 provides an Executive Summary of the rate outlook. A quick view of where the industry and rates are headed and a glimpse at the high-level metrics that impact your business the most.

Page 2 contains the FTR exclusive Shippers Conditions Index that tracks freight demand, freight rates, fleet capacity, and fuel price, combined into a single index. A simple guide on reading the numbers is below:
Optimistic conditions are represented by a positive reading while pessimistic conditions read at a negative score.
A reading below zero warns you of a problem while high above zero indicate an opportunity.
Double digit readings, both up and down, are warning signs for significant change in the market.
Pages 3-8 are broken down by topic and provide in-depth but concise details of what is happening in the world around you. Specific areas are summarized in text on the left, with key graphs showing current conditions and outlook data.

Pages 9-10 include indicators and details into the broader economic environment. The economy drives freight demand and is important to track for outside influences that may affect your business.

Pages 11-12 delivers exclusive commentary from FTR industry experts and our takeaway from the current conditions and outlooks. In this section, we provide an overview of the factors affecting the industry, along with any insights we can provide to help you understand the market.

As a paid subscriber, if you have questions about the market above what you've read in the Shippers Update, you'll also have direct access to our in-house panel of experts with over 270 years of combined experience in the transportation industry. Never go into a presentation or rate negotiation without the best transportation intelligence available!

---

Why you need the Shippers Update:

The report you just downloaded allows FTR Subscribers the following benefits:
Increased market intelligence for their planning and budgeting process
Informed leverage when negotiating rates with carriers
Staying current on regulatory impacts to the freight and transportation market
Many more standard subscriber benefits including State of Freight Webinars, multiple users, commentaries and downloads, and so much more!
The Shippers Update is packed full of information presented in an easy-to-read guide that covers all aspects of the freight world, including economic drivers that impact rates and your business.