Download the Sample Report
Thank you for downloading the FTR Rail Update! This FTR product provides a monthly snapshot of all the commodity groups that make up the rail carload sector. Presented in a clear & concise monthly publication, the Rail Update gives you the information you need to stay informed on the current state of the rail industry.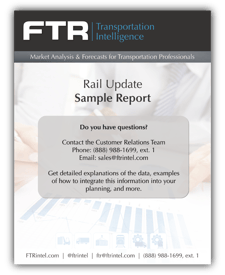 Rail Update Sample Report
---

Why you need the Rail Update:

The Rail Update will give you the business intelligence to benchmark your company against the industry expectations allowing you to shift gears when you need to. For carload shippers, you'll have all of the pertinent information which affects your ability to find a car in the marketplace regardless of which type of car your business uses. For rail equipment manufacturers, the Rail Update will give your company the insight to know where to focus your business efforts and what to expect in terms of forecast and market size by car type.
The report you just downloaded allows FTR Subscribers the following benefits:
Analysis and forecasts of key trends and market segments.
Your source for our unique capacity and rate outlook by market segment.
Overview of the major trends impacting the fast growing intermodal sector.
Two monthly commentaries: a specific industry focus and a general commentary discussing any key issues affecting the rail industry
Many more standard subscriber benefits including State of Freight Webinars, multiple users, commentaries and downloads, and so much more!
The Rail Update is packed full of information presented in an easy-to-read guide that covers all aspects of the over the rail industry, including economic drivers that impact rates and your business.