Download the Sample Report
The best way to truly understand a report is to take a moment and read it. Download a sample report by completing the form below.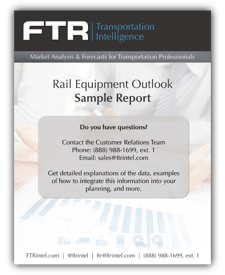 Rail Equipment Outlook Sample Report
---
Why you need the Rail Equipment Outlook:
Whether you are buying or building new railcars, companies need to be able to identify trends and turn those into opportunities for growth in the market. Only FTR combines a strong understanding of freight demand with expertise in railcar equipment to produce the most comprehensive outlook available.
Along with the finest forecasts in the industry you get expert written summaries throughout the report that are clear and to the point. After reading the report you should have a clear understanding of the most relevant issues and the upside and downside risks that are affecting the economy, transportation and more specifically the rail industry.