Download the Sample Database
The database download, with historical and forecast data, gives you the ability to download the database, presentation graphs, State of Freight Insights, and data on additional lanes, regions, and outlook data.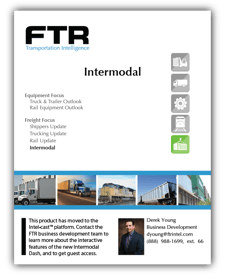 Intermodal Dash Database Sample
---
Why you need the Intermodal Dash:

Companies involved in intermodal need to be able to readily identify where growth is occurring and what type of equipment is moving. FTR's Intermodal Dash on the Intel•cast™ platform provides hard data and the concise analysis within an interactive format that allows you to quickly get the precise business intelligence you need most.
FTR's Intel•cast™ platform is a completely new way to view market analysis and forecasting data. Starting with the Intermodal Dash, each surface mode of transportation is being integrated into its own dashboard with market trends and both historical and outlook data. Each dashboard contains tabs with commentary, interactive graphs, as well as the downloadable reports and data files that are already standard.