Download the Sample Report
The FTR State of Freight INSIGHTS publication provides Premium Subscriber commentaries on the transportation markets featuring the FTR experts.
Each month, our FTR experts release an analysis of the marketplace that generally utilizes data analytics to underpin their assessments. This assessment will give your team the confidence they need to make tactical and strategic changes in your business knowing that the data, as well as the unbiased FTR expertise, supports it.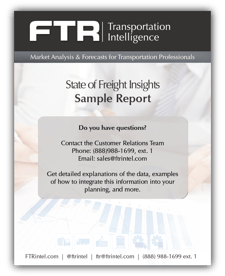 State of Freight Insights Sample Report
---
Why you need State of Freight Insights:
In addition to the monthly 2-4 page report focused on real-time events in the market, you'll also receive 1-2 C-Suite Synopsis' per month which gives you a brief multi-modal review of the marketplace that busy execs can review and utilize, highlighting the key issues that matter or focusing on the 'big picture'.
Lastly, our State of Freight Insights subscribers will also be invited to participate once per month in an exclusive 'Ask-the-experts' webinar. This time is devoted strictly to answering to the needs of our customers and the topics that are impacting YOUR business.