Download the Sample Report
The Closer Look Series combines AllTranstek's rail equipment intelligence with FTR's dynamic forecasting model and analysis in a collaborative methodology to produce the industry's most thorough and comprehensive rail equipment forecast and report.

Unsure what to do with your Open Top Hopper investments in a depressed market that doesn't seem to have an end? The Open Top Hopper Report can help answer your questions.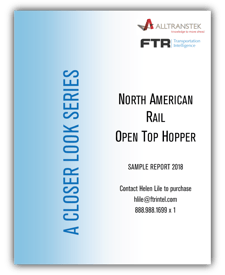 Closer Look: Open Top Hopper Report
---
About the Closer Look: Open Top Hopper
Open Top Hoppers are designed to carry bulk materials, especially coal, and other mining industry products such as crushed stone, aggregate materials, and ores. The vast majority of this fleet's traffic base is comprised of coal, a commodity struggling to maintain its historic shipment volumes.
The Open Top Hopper fleet has faced difficulties in recent years, despite demand for Aggregate cars. Will heavy retirement cycles continue to shrink the fleet? How does the outlook vary by segment? The industry's leading market forecast report answers these questions and more.
Closer Look: Open Top Hoppers Report Contains
A detailed fleet analysis by AllTranstek's unique car type segmentation scheme, dividing the Open Top Hopper fleet into 8 diverse sub-segments
Current fleet sizes for each sub-segment
Pictures and illustrations of select car types, unique components, and important commodities
Unique characteristics inherent to sub-segments
Snapshot of each fleet segment's age profile allocated by 5- year buckets over a car's 50-year life
Ownership mix profiles across railroads, shippers, and leasing companies
Historic deliveries, retirements, and utilization
Forecasts and projections by fleet segment: new car deliveries and retirements
Current and historic traffic activity across car types
Traffic shares, commodity drivers, and industry drivers
AllTranstek's unique Car Demand Pressure Index, illustrating the relationship between fleet size and shipping activity since 2007
Fleet ownership mix, age profile, retirement trends, and new equipment delivery forecast for the fleet as a whole
---

Why you need the Closer Look Series

True to its name, the Closer Look Series scrutinizes the current railcar market with respect to freight transportation across all car types in order to provide the most advanced analytics available in the rail industry. With a wealth of institutional knowledge and data, FTR and AllTranstek combine our efforts and industry expertise to provide the most complete annual update on trends in the North American Railcar Fleet.
The Closer Look Series is comprised of six individual reports covering each of the six major car types: Covered Hoppers, Tank Cars, Gondolas, Open Top Hoppers, Box Cars, and Flat Cars.
These reports provide invaluable information and insight for longstanding rail equipment industry participants, as well and new entrants to the industry, including fleet owners, leasing companies, new car builders, component suppliers, service providers, financial institutions, investors, rail carriers and shippers.

Each Closer Look Report Contains
An in depth analysis on one of the six major car types: Covered Hoppers, Tank Cars, Gondolas, Open Top Hoppers, Box Cars, and Flat Cars.
An executive summary that highlights the important take-away's of the report
A market overview detailing the industries and commodity traffic bases that each fleet relies on, as well as analysis focusing on the fleet sub-segments.
A detailed fleet overview and analysis by car type segment for each major fleet, including such important factors as fleet size, age profile, ownership mix profiles, traffic base mix, unique car characteristics, historic deliveries, retirements, and fleet utilization
Forecasts and projections by fleet segment of fleet demand growth, new car deliveries, retirements
Comprehensive fleet ownership profiles by car type segment, including historical ownership shares and trends.
The effects of the freight transportation market on historical and current trends for fleet utilization and equipment surpluses.
Thorough age profiles for each fleet and its segments, discussing the cumulative effects of retirements, new car orders, and deliveries on the overall age and production backlog of the fleet, as well as forecasted changes in each of these areas.
The Closer Look reports are updated annually using the latest available data from FTR, AllTranstek and a variety of industry sources.
NOTE: Save $300 off of each additional report you purchase in the Closer Look Series. Please contact Derek Young at dyoung@ftrintel.com or (888) 988.1699, ext. 66 to obtain a promotion code for ordering.