Spot rates hit record levels as volume moves higher
Total spot rates posted in the Truckstop.com were the highest ever during the week ended April 9 (week 14). Excluding fuel surcharges, the average total spot rate was $2.464 per mile, edging out the $2.455 recorded at the end of June 2018. Load postings rose 4.9% week over week. The prior week's decline in flatbed postings looks to have been a holiday-related pause as the segment posted its sixth volume record in seven weeks. Total truck postings rose sharply for the second straight week.

Week 14's spot market bears no resemblance to the market exactly a year ago, which was only a week away from bottoming out due to pandemic-related lockdowns. Total load volume in the latest week is close to a record level while volume during in the same 2020 week had been the lowest since Thanksgiving week 2016. Compared to year-earlier levels, total volume in week 14 was up 472%.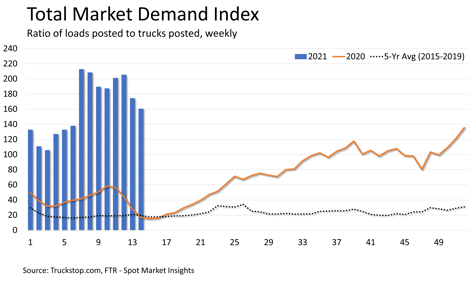 Truck postings rose about 14% after a 15% increase the week before. Both were much sharper increases than typical, at least in weeks not distorted by holidays or extreme weather. The gains possibly reflect the ongoing surge in new entry in trucking, which began last July. March saw a record number of newly authorized trucking companies, and April looks to surpass March. With truck postings outpacing load postings, the Market Demand Index – the ratio of loads to trucks in the Truckstop.com system – fell to its lowest level in nine weeks.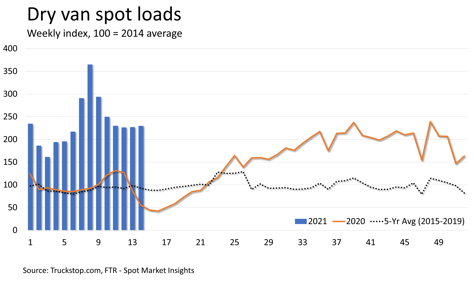 Dry van load postings edged up 1.2% week over week. Volume has held fairly steady over the past four weeks after stabilizing from the weather-related spike in week 8. Volume was 318% higher than the same 2020 week and about 148% higher than the five-year average. Dry van truck postings rose nearly 7%, and the dry van MDI fell to its lowest level in 10 weeks.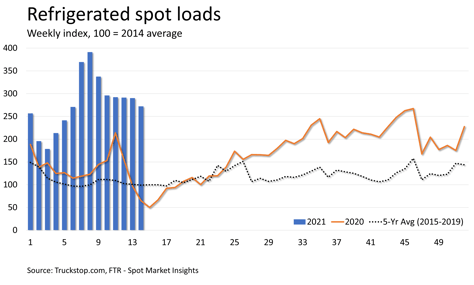 Refrigerated load volume fell 6.2%, which is the largest decrease in five weeks. The year-over-year comparison for refrigerated load postings is basically the same as dry van at nearly 319%. Volume was 175% higher than the five-year average. Refrigerated truck postings jumped 18% – a much sharper gain than in the previous week – and the refrigerated MDI fell to its lowest level in 11 weeks.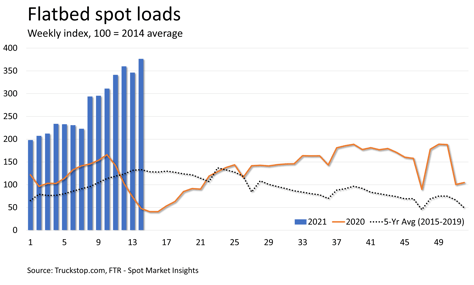 Flatbed load postings rose 8.7% week over week, setting a volume record for the sixth time in seven weeks. Load volume was 687% – nearly eight times – higher than the same 2020 week. Compared to the five-year average, flatbed loads were 183% higher. Truck postings rose nearly 10% following the 15% gain in the prior week, and the flatbed MDI edged down to its lowest level in six weeks.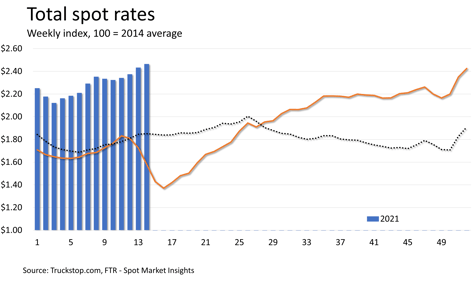 The broker-posted rate per mile excluding fuel surcharges increased about 3 cents and was about 56% above the same 2020 week. The gains came from flatbed and specialized as rates declined in dry van and refrigerated. Flatbed rates were up nearly 6 cents, surpassing the June 2018 previous record by nearly 5 cents. Flatbed rates were about 52% higher than the same week last year. Specialized rates, which were already at a record level, rose 9 cents and were about 40% higher than the same 2020 week. Dry van rates declined about 3 cents but were up about 66% year over year. Refrigerated rates fell about 8 cents but were up about 68% from the same 2020 week.
---
Leveraging robust Truckstop.com data with the expert analysis of FTR Transportation Intelligence, Truckstop.com and FTR partner to bring you timely and relevant transportation market forecasts and analyses to help you run your business.