February 2021 - Commentaries
Restarting the Industrial Economy
By Don Ake, VP of Commercial Vehicles

The great disparity between the rebound in consumer market versus industrial is illustrated by comparing orders for van trailers, those hauling consumer goods, and those for flatbed trailers, used for transporting industrial goods. For the 2020 September-December time period, van orders were up an astounding 160% over the same period last year. Flatbed trailers were up only 31% (still respectable).
Paper Industry Update
By FTR Experts

Production declined sharply in the first half of 2019, but had mostly recovered before manufacturing slowed suddenly in March and April due to Covid-19. Output mostly recovered by the end of 2020, although even without the extraordinary pressure of the pandemic, production has been declining for five years.
Where is oil pricing headed?
By Steve Graham, Partner

The price of oil has rallied more than 50% since October after vaccine approvals and rollouts began to surface. OPEC capped its supply in February and Saudi Arabia will reduce its production by 1 million barrels a day over the next few months. U.S. stockpiles declined to their lowest level in 11 months in mid-February, a factor that is supporting a price increase. The cold weather across the nation in mid-February is also boosting demand.
Download the February State of Freight TODAY commentaries (in PDF)
Truck Market Update - 100th podcast episode!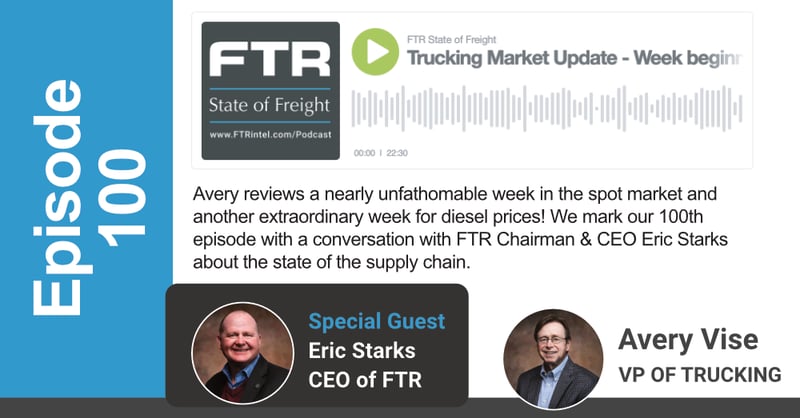 We've hit 100 episodes! And there is a lot to talk about. Avery Vise reviews the spot market data from the polar vortex. In his words, "truly unbelievable numbers". The plunging temps drove rates up and up. Shippers must be tired of talking about record-breaking rates at this point (though carriers and brokers are clearly not complaining). Avery is then joined by Eric Starks for a discussion on the state of the supply chain.

Listen to the podcast and DOWNLOAD THE GRAPHS to see the dramatic impact the weather and Texas grid failure had on the spot market.
Conditions Indices & Equipment Orders
Trucking Conditions Index Down Due to Rising Fuel Costs

Shippers Conditions Index Deteriorated Slightly in December

| | |
| --- | --- |
| | Shipping Conditions Index for December deteriorated slightly from the previous month to a reading of -10.9. Q4 '20 saw the toughest market conditions for shippers since early 2018. Freight volumes remain strong but fuel costs continue to rise steadily. FTR's current outlook is for improved conditions as capacity utilization and rates start to stabilize, albeit at high levels. |
Preliminary Trailer Orders Fell in January After 4-Month Run of Robust Orders

Preliminary North American Class 8 Net Orders for January Remain Elevated at 42,800 Units

| | |
| --- | --- |
| | Preliminary North American Class 8 net orders for January remained elevated at 42,800 units. January is the fourth consecutive month for Class 8 orders to exceed 40,000 units. January order activity was -18% m/m and +144% y/y. Orders for the previous twelve months now total 308,000. |
Latest Industry News with FTR
Welcome to the State of Freight TODAY, a monthly newsletter with expanded analysis and commentary for the freight transportation industry. I am excited about the great work that we will be showcasing and I hope that it brings up even more important questions that we get to help you solve in the future.

Cheers on your path towards more transportation intelligence!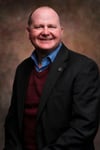 Eric Starks
Chairman & CEO, FTR