Freight Transportation Events and Webinars from FTR
Monthly webinars are included in FTR subscription services. Our State of Freight™ webinars are offered eleven months of the year (no webinar in September for the FTR Transportation Conference), and provide a great way to stay updated on evolving outlooks. Ask the Expert webinars are for premium subscribers and those that receive our State of Freight Insights reports. The Ask the Expert webinars provide a brief market update and an extended Q&A format to allow attendees to have a more engaged dialogue with the FTR Experts. We also provide modal-specific outlook and update webinars to keep FTR clients informed on changing trends and expectations for their specific area of transportation.
Learn about subscribing to FTR services and the additional benefits of becoming an FTR Client.

Click here for details >
Upcoming FTR Webinars
View all upcoming webinars and events below.

Thursday, July 9th, 2020 | 11:00 AM - 12:00 PM EST
Presenters: Eric Starks, Avery Vise & Todd Tranausky | Moderator: Jonathan Starks
This is an open webinar and free for all attendees
This State of Freight webinar will serve to help set the stage for the second half of 2020 and beyond for freight transportation. This year has been unprecedented, and many unknown factors remain concerning the economy and, ultimately, the freight markets. We cannot cover all, but we will discuss some of the most consequential issues and how various outcomes could affect shippers, carriers, and brokers.

This webinar will examine:
What the recovery from COVID-19 looks like for the freight markets.
Whether there will be capacity issues in truck or rail as the economy recovers.
The state of rail service and whether it can be sustained as volumes rebound.
Complete the form to register now:
Available to: Subscribers of State of Freight Insights
Thursday, July 16th, 2020 | 11:00 AM - 12:00 PM EST
Presenters: Avery Vise & Todd Tranausky | Moderator: Jonathan Starks
You must register using your company email to attend.


The Economic Restart
How long until we are back to normal?
August 13, 2020 | 2-4 PM EST

Assessing Trucking's Recovery
Top gear or stop-and-go?
September 10, 2020 | 2-4 PM EST

Commercial Vehicle: Supply Shock
What challenges do suppliers face now?
September 24, 2020 | 2-4 PM EST

The Future of Rail & Intermodal
Where does the track lead?
October 8, 2020 | 2-4 PM EST

What does the new normal look like?
November 12, 2020 | 2-4 PM EST

The 2021 Outlook
What will it mean to put 2020 in the rearview?
December 10, 2020 | 2-4 PM EST
Learn more about each session and details about how to register FTR Engage by going to www.FTRintel.com/Engage.
Featured Replays
The below webinars are open to the public. All webinar replays are available to FTR Clients in the "on-demand video" section of their member portal.

Rail's Response to COVID-19
This webinar aired on June 9th, 2020
Presenters: Eric Starks, David Nahass, William Geiger
Moderator: Todd Tranausky
Description: This webinar provided details on the health of the North American Rail Industry to inform attendees on the current and future state for the rail industry, rail equipment, and the railcar lease market. We cover the potential length of the recovery and when the industry should return to pre-pandemic levels, as well as provide a Q&A session to address questions from attendees.

Ask the Expert Webinar
Known Unknowns
This webinar aired on May 18th, 2020
Presenters: Eric Starks, Clay Slaughter, and Avery Vise
Moderator: Jonathan Starks
Description: There are many risk factors and variables we know will affect the economy, but the impact and magnitude of these are still not known. These 'known unknowns' are variables the FTR team is closely monitoring. In this Ask the Expert webinar we address the uncertainty that transportation professionals are facing and discuss the various factors involved in restarting the economy. As part of this webinar, attendees had the opportunity to ask the FTR Experts specific questions about their business.
Recent Podcasts
FTR's State of Freight™ Podcast provides ongoing updates, and FTR expert commentary, on the issues that will affect your business the most. Subscribe to stay in the know with market updates on different modes of transportation, the monthly State of Freight TODAY, and so much more.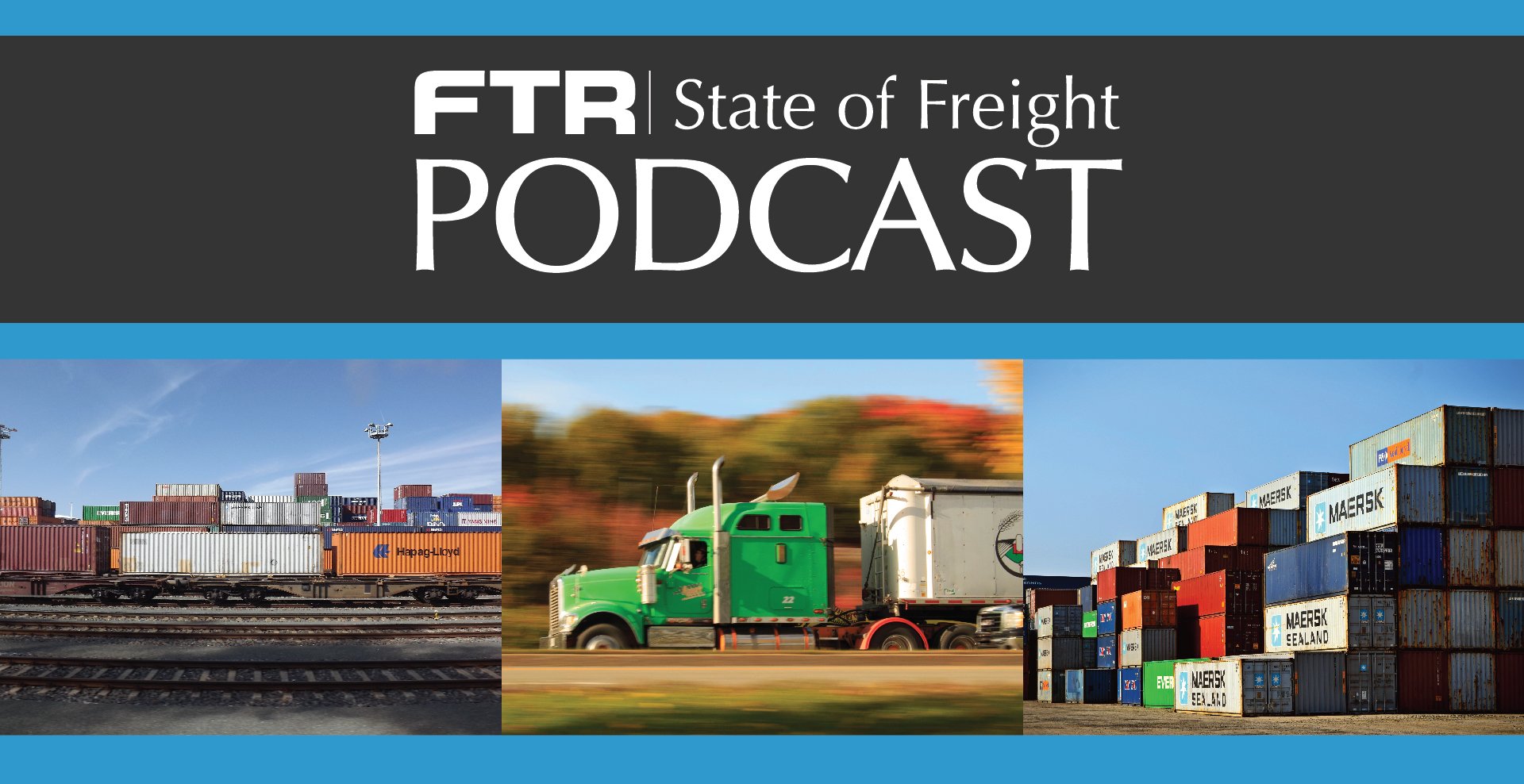 Listen to the most recent episodes:
To watch or listen to the State of Freight Podcast, or to download graphs and presentations from episodes, go to:
Recent Newsletters