Join FTR for a virtual speaking event on:
Railcar: Lower for Longer
November 12 — 2:00 PM EDT
The rail equipment market was under pressure before the freight and economic decline that accompanied COVID-19. An already-weak market grew weaker and, unfortunately, will remain that way until scrapping or freight demand increase. The rail equipment market is expected to face headwinds for the next 18 months. This session aims to provide some discussion around which car types are likely to emerge more quickly from the current malaise.


Railcar: Lower for Longer | What does the new normal look like?
Jeff Lytle - CIT, President of Rail
FTR Experts: Todd Tranausky, Eric Starks | Moderator: Jonathan Starks

---
Register for this session of FTR Engage at no charge!
Complete the form below for complimentary registration.
About our Keynote: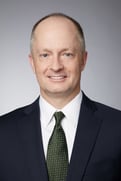 Jeff Lytle, CIT
President of Rail
Jeff Lytle was appointed the president of CIT's Rail business, effective April 1, 2018.
In this role, Lytle has oversight for all of CIT's Rail operations, which include offering customized leasing and financing solutions and a diversified fleet of railcars to freight shippers and carriers.
Lytle's career includes over 22 years of experience in railcar leasing. He joined CIT in 2005 and most recently held the position of senior vice president in charge of leasing for CIT's tank, plastic hopper and boxcar railcar portfolios.
Prior to joining CIT, he was senior vice president of sales for GE Rail for nine years. He also held several management positions at Ashland Chemical. Lytle received a bachelor's degree from Indiana University and an MBA from Arizona State University.